Cooperative, non-market and country-led—that was the order of the day when it came to fossil fuel subsidy reform (FFSR) at the UN Climate Change Conference (UNFCCC) from November 7–19 in Marrakech, Morocco. Across the two weeks, the conference attracted some 22,500 participants, and there were several side events held in English and French on the issue of FFSR (a full listing is available here). Events and discussions covering FFSR focused on early action and implementation of the phase-out of fossil fuel subsidies given the current window of opportunity afforded by low oil prices. They addressed lowering the total value of fossil fuel subsidies to consumers, reducing the cost to governments of reform, as well as efforts to phase out upstream subsidies to fossil fuel producers.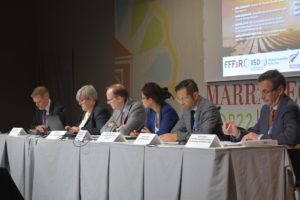 In the Agreement
The issue of FFSR also made some headway within the work plan for implementation of Article 6 of the Paris Agreement. Article 6 describes how Parties can choose "to pursue voluntary cooperation in the implementation of their nationally determined contributions to allow for higher ambition in their mitigation and adaptation actions and to promote sustainable development and environmental integrity." There are particular opportunities for FFSR to be treated as non-market approaches, as identified under Article 6, paragraph 8 from mitigation and sustainable development perspectives. This provision recognizes the role of such approaches, and defines a framework for them and a work plan over the next few years. Indeed, the Maldives, for the Alliance of Small Island States, raised the issue outlining that "non-market mechanisms should start with fossil fuel subsidy reform and the phase-out of inefficient and polluting technologies." New Zealand included a submission to the process by also proposing this issue, and presented on FFSR within a UNFCCC Technical Experts Meeting held in Bonn in May 2016. Many other countries have included fiscal instruments within their Nationally Determined Contributions (NDCs) (40), and fossil fuel subsidy and energy sector reform within 14 other NDCs. Champions include countries such as Morocco, who has already eliminated most subsidies to fossil fuels, which was highlighted in a brochure on the topic, Learning from Leaders. The inclusion of FFSR within the scope of Article 6, paragraph 8 activities was discussed during negotiations in Marrakech, where Parties appeared generally to view the framework for non-market approaches to be facilitative in nature, aiming to support international cooperation for such approaches, rather than regulate them at the UNFCCC level. The issues will be discussed further in Bonn, in May 2017 and submissions from Parties on the matter are welcome by March 2017. An existing voluntary effort to raise the issue on the sidelines of the UNFCCC and in other venues has been pursued by the Friends of Fossil Fuel Subsidy Reform with over 40 countries supporting phase-out via an international Communiqué.
On the Sidelines
On Thursday, November 10 an event titled Fossil Fuel Supply and Climate Policy was organized by the Stockholm Environment Institute (SEI), Oil Change International (OCI) and the Overseas Development Institute (ODI). Ivetta Gerasimchuk of GSI covered producer subsidies, explaining that "production subsidies for extraction of oil, gas and coal matter for climate and should be part of climate action." SEI explained that two thirds of oil, gas and coal need to be left undeveloped, while OCI explained how all new development in fossil fuels needs to be halted to stay within 2 degrees. A recording can be found here.
On Tuesday, November 15 an event called FFSR and Climate Change: Early Action and Implementation took place. This event focused on the need for the Group of Twenty (G20) to agree a on a phase-out date for fossil fuel subsidies, while also shedding light on the process of peer review between China and the United States and urging countries to follow those that had phased subsidies out, such as Ethiopia.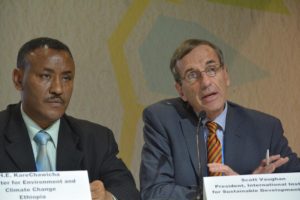 Scott Vaughan, President of IISD, called for the phase out of fossil fuel subsidies by 2020 along with hundreds of non-governmental organizations and insurers managing over USD one trillion worth of assets. Vaughan insisted that "fossil fuels subsidy reform must be faster and pro-poor."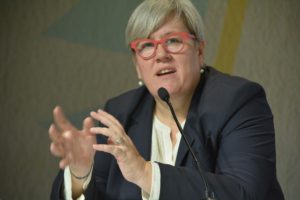 Leonardo Martinez-Diaz, Deputy Assistant Secretary for Energy and Environment, U.S. Treasury, and An Qi, National Development and Reform Commission, China (NDRC), elaborated on the recent peer review process that China and the United States went through, and encouraged other countries to share information on subsidies with each other and publish it. Martinez-Diaz noted that: "We have identified 16 fossil fuel subsidies and we plan to reform all of them." He also emphasized that the peer review process with China set the "foundation for broader, deeper debate." Rachel Kyte, CEO, Sustainable Energy for All (SE4all) encouraged countries to phase out fossil fuel subsidies, and for the G20 to set a firm date for the phase-out. She said: "Price carbon, get rid of the subsidies and make an even playing field," adding that "we need to do what is smart. We need effective energy prices."
Minister Kare Chawicha, State Minister for Environment and Climate Change for Ethiopia, explained how his country had phased out fossil fuel subsidies in 2008, faced with food and fuel price spikes and a difficult choice between the two. He also called for an end to the untold billions flowing against the clean energy transition, saying that "fossil fuel subsidies hamper innovation. Ethiopia phased them out other countries should too."
Mark Sinclair, Climate Change Ambassador for New Zealand, chaired the event and highlighted the Friends of Fossil Fuel Subsidy Reform Communiqué. The International Energy Agency's (IEA) Paul Simons explained that "FFSR was one of five items accounting for about 10 per cent of gains" in emission reductions from the energy sector, and that progress had been significant, with reductions in subsidies "from USD 500 billion in 2014 to USD 325 billion last year."
A recording of the full event can be found here.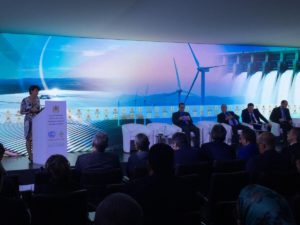 On Thursday, November 17, a joint Swiss-Moroccan event was held in French in the Morocco Pavilion. It included Doris Leuthard, Vice-President of Switzerland and Head of the Department of Environment, Transport and Communications (Switzerland); Mohammed Louafa, Minister of General Affairs and Governance (Morocco); Adil Ziady, President of the Group of Oil Operators (Morocco); Andrea Liverani, Sustainable Development Program Leader (World Bank); and Laurent Michel, Director General for Energy and Climate (France). Vice President Leuthard opened the meeting and described recent reforms in Mexico and Indonesia, and encouraged countries to seek support for reform. Andrea Liverani explained how fossil fuel subsidies were bad for fiscal budgets, society and the environment through air pollution and over-abstraction of water. Laurent Michael explained the situation in France and the use of taxation.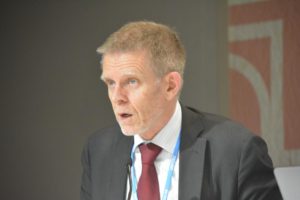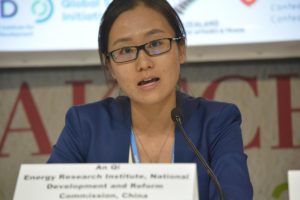 On Wednesday, November 16 a new report was launched from the Nordic Council of Ministers titled Learning from Leaders. The report covers the link between fossil fuel subsidies and climate change, as well as best practice case studies from Morocco, Ethiopia, Peru, the Philippines and Nordic countries. The event was opened by H.E. Kimmo Tiilikainen, Minister of Agriculture and the Environment, Finland. He explained that "the energy sector is of great importance and a critical change will be national fuel switching away from carbon intensive sources and increased efforts towards energy efficiency and sustainable energy. Subsidies and support from governments to fossil fuels encourage the opposite." Speakers at this event included Laura Merrill, Senior Researcher and GSI Operations Manager, IISD; Markku Ollikainen, Professor, University of Helsinki; Selamawit Desta Wubet, National Climate Change Negotiator, Ministry of Environment, Forest and Climate Change, Ethiopia; An Qi, Research Associate, Energy Research Institute, NDRC, China; Karthik Ganesan, Research Fellow, CEEW, India. A video recording of the event can be found here here.
The Minister of Agriculture and the Environment of Finland Kimmo Tiilikainen, Chair of the Nordic Council of Ministers for the Environment, was also in attendance. He said: "We have to work fast in order to achieve the goals set in the Paris agreement. This Nordic study shows that there are already plenty of proven low-carbon solutions available, and at an affordable cost. There is no reason to wait. The time to deliver is now."
As John Kerry, Secretary of State for the United States, explained to the CoP, "Winston Churchill was known for his hard-nosed insight and the way that he expressed it. He once argued, tellingly: 'It's not always enough that we do our best; sometimes we have to do what is required.' We know today what is required. And with all of the real-world evidence, with all of the peer-reviewed science, with all of the plain just old common sense, there isn't anyone who can credibly argue otherwise. So we have to continue this fight, my friends."
Experts would agree that phasing out fossil fuel subsidies makes plain old common sense too.