Global Subsidies Initiative, together with the Nordic Council of Ministers, hosted a side event during the 25th UN Conference of the Parties (COP 25) Climate Conference: "Raising NDC Ambition to Reach Climate Action Goals: Fossil fuel subsidies, energy pricing and swaps."
Highlights
The panel focused on sharing lessons and best practices on fossil fuel subsidy reform and pricing based on country experience from New Zealand, Egypt and Indonesia.
GSI expert Lourdes Sanchez presented results on greenhouse gas emission reduction from energy modelling research over 20 countries.
World Bank representative Stephan Hammer explained the World Bank's Energy Subsidy Reform Facility program and technical assistance facilitating global fossil fuel subsidy reform.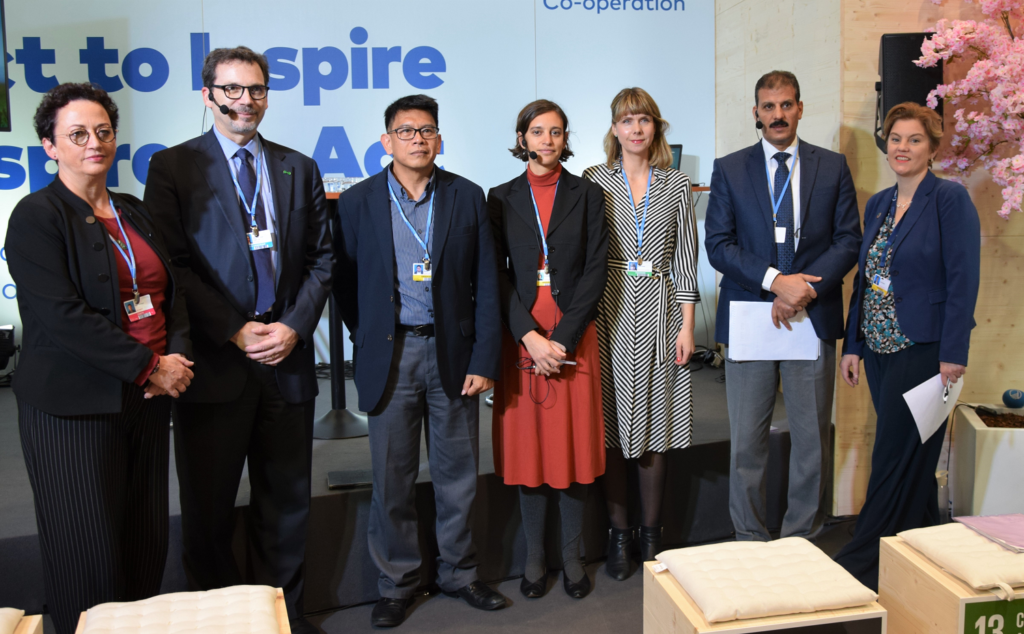 On Thursday, December 5, during the UN Climate Conference COP 25, Global Subsidies Initiative experts, together with representatives from the World Bank and the governments of New Zealand, Egypt and Indonesia, discussed possible scenarios for raising ambition with second-generation Nationally Determined Contributions (NDCs) and shared best practices on fossil fuel subsidy reform and pricing to achieve the Paris Agreement goals.
IISD expert Laura Merrill opened the event with remarks on raising ambition for fossil fuel subsidy reform in second-generation NDCs.
New Zealand Climate Change Ambassador Kay Harrison reminded those present of the recent words of the UN Secretary-General, Antonio Guterres, who called on world leaders to phase out coal, put a price on carbon and stop subsidizing fossil fuels. Harrison highlighted that fossil fuel subsidy reform—when implemented carefully, inclusively and in a considered way—is a powerful tool for enhancing ambition. "There is experience and help if countries want to take on the challenge to review, reform and phase out fossil fuels," stressed the ambassador.
Harrison also noted that New Zealand is currently working closely with Fiji, Costa Rica, Iceland and Norway to bring together interrelated elements of climate change, trade and sustainable development agendas through a new Agreement on Climate Change, Trade and Sustainability. New Zealand, Costa Rica, Denmark, Ethiopia, Finland, Switzerland, Sweden, Norway and Uruguay make up the Friends of Fossil Fuel Subsidy Reform.
Executive Director of the Indonesian Institute for Essential Services Reform Fabby Tumiwa shared Indonesia's experience, noting that the country has been reforming fossil fuel subsidies for the last 30 years. "It's a big and daunting task in Indonesia," he said. Tumiwa noticed that, at the moment, the biggest challenge for Indonesia is addressing the remaining liquefied petroleum gas subsidies used by small and medium enterprises. "The government needs to take this approach carefully, considering the global economic situation," stressed Tumiwa.
Ahmed Mohammad Mahina from the Ministry of Electricity and Renewable Energy in Egypt highlighted that "Egypt has moved from a shortage of energy production to surplus." This progress was achieved through the Integrated and Sustainable Energy Strategy, which sets ambitious goals focused on diversifying the energy mix, maximizing the renewable energy share and improving energy efficiency by 2035. Fossil fuel subsidy reform, although postponed three years due to changes in international markets, has already implemented six of the eight planned stages. The policy change was followed by a media campaign building social awareness on energy efficiency in Egypt.
Stephan Hammer, the World Bank's Manager of Climate Policy, explained the mechanism of the World Bank Energy Subsidy Reform Facility, which provides technical assistance to help countries reform, reduce and remove fossil fuel subsidies while protecting the poor.
The project uses the Subsidy Reform Assessment Framework, which is a comprehensive analytical toolkit and assessment framework on implementing fossil fuel subsidy reform. The framework presents recommendations on identifying and estimating the fiscal cost of subsidies from consumption and production perspectives, assessing local and global environment externalities related to greenhouse gas emissions and air pollution, and creating a citizen engagement strategy that needs to be fully integrated into any reform initiative.
Global Subsidies Initiative expert Lourdes Sanchez presented results from energy modelling research from over 20 countries. The research found that removing subsidies to fossil fuels could reduce emissions by an average of 6 per cent across the countries modelled. The reform—combined with implementing a 10 per cent energy tax from 2025 until 2030 and investing 30 per cent of the savings into clean energy—could reduce average emissions by up to an additional 13.2 per cent by 2030.
Overall, participants found that fossil fuel subsidy reforms could be delivered in a step-wise fashion when coupled with investments in social safety nets to support the poor through health, and education. The panellists discussed the co-benefits associated with reforms, including greenhouse gas emission reductions and improved efficiency. It was highlighted that governments could also consider investing savings from reforms into the shift to renewable energy and energy efficiency (a swap).
"With second-generation NDCs expected in 2020, both subsidy reform and energy taxation could form part of the fiscal instruments that governments have at their disposal to raise ambition," said Merrill.